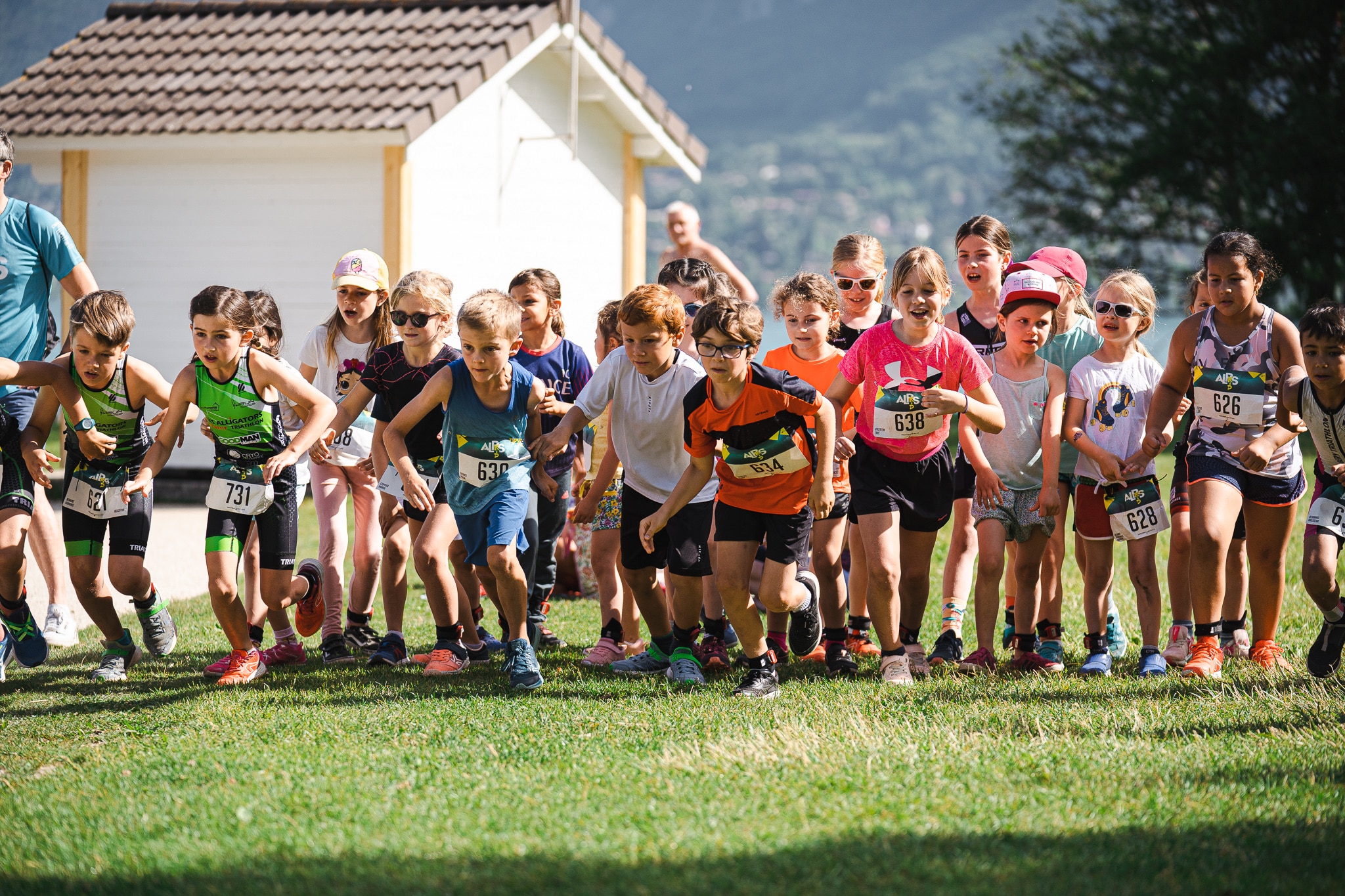 The concept
On Saturday June 8, the 6th edition of the AlpsKid will take place on the beach at Saint-Jorioz! A race dedicated to children aged 6 to 13, to introduce them to the joys of triathlon! It's a unique opportunity to get to grips with triathlon around Lake Annecy, and to follow in the footsteps of their elders.
On the program, 3 races for 3 categories with distances adapted according to the ages. The youngest will be introduced to the duathlon (running and cycling). The older categories will have the right to a real triathlon course combining the three disciplines, including a swimming part in the crystal clear waters of Lake Annecy.
The AlpsKid is the new triathlon event that brings together families on the beaches of Saint-Jorioz. Atmosphere guaranteed!
REGISTRATION OPENS ON FRIDAY, FEBRUARY 9 AT NOON.
Pathways according to my child's age category

GPX Tracks
Benjamin:
Pupils
Mini chicks
SATURDAY JUNE 8
07:45 - 09:00 am : Welcome, registration and number collection
07:45 - 9:20 am : Opening of the bike park, deposit of bikes of all categories
9:30 am : Start of the Mini-Poussins / Poussins event
Followed by the start of the Pupil's race
Followed by the start of the Benjamins race
11:00 am: Prize-giving ceremony
Conditions of registration
The AlpsKid is a competition open to FFTRI licensees or licensees of a foreign triathlon federation affiliated to ITU 2024 and non-licensees, aged 6 to 13. Registration is online via the registration platform or on site on Friday May 1, subject to availability.
Non-licensed participants must provide a medical certificate of no contraindication to the practice of sport or triathlon in competition dating less than one year before the day of the event as well as a parental authorization.
MOUNTAIN BIKE REQUIRED.
A medal will be given to all participants!
We will reward the first 3 boys and girls of each category (Benjamins, Pupils, Chicks and Mini-Chicks)
More information to come.